Advanced Production Process of Mineral Processing Plant
Date:2018-05-18 Source:zk corp Views:
As one of leading mining machinery provider, Henan Zhengzhou Mining Machinery Co., Ltd provide one stop and complete solution for the mining industry investors. With rich project cases on the mineral processing plant, we could supply different solutions for customers to meet the different demands. The following are the common methods used for mineral processing plant.
Gold Ore Flotation Process
Flotation method is one of the most widely used mineral processing methods in gold production. With high flotation efficiency, it can handle the ore impregnated by fine granule. For complex ore, flotation method can get a good selection effect. Flotation method is often used for processing the gold ore with highly buoyant sulfide mineral. Sulphide ores mainly includes poor sulphide gold ore (mostly quartz vein type or hydrothermal alteration type), polysulfide gold ore and Polymetallic gold sulfide ore. The flotation process can maximize the enrichment of gold into sulfide minerals. By this method, the cost of beneficiation is low.
Gold Mine CIP Process Technology
Cyanide process is an effective method which is widely used for gold extraction. The main ore which is suitable for CIP production line are argillaceous oxide ore, gold flotation concentrate, gravity separation tailings etc.
Gold Ore Heap Leaching Process
Gold heap leaching processes are often used to develop gold deposits with small orebodies or low grades, or both and deposits that cannot be developed by conventional methods. Its main process is to crush low-grade gold ore to a certain granularity (or granulation). Accumulate on the leakage-proof bottom pad constructed by materials such as asphalt or plastic, and sprayed on the mine heap with a low concentration of cyanide, alkaline solution, and non-toxic solvent or other solution. The solution containing gold is leached out from the heap, and then gold is recovered by means of activated carbon adsorption.
Iron Ore Beneficiation Process
Magnetic separation is one of the main method for iron ore upgrading. Magnetic separation consists of low-intensity maganetic separation and high-intensity magnetic separation. Low-intensity magnetic separation is mainly used for magnetite, vanadium titanium magnetic iron ore and other highly magnetized iron ore. High-intensity magnetic separation is mainly used for hematite and other low magnetized iron ore. Some siderite, hematite also adopt the high-intensity magnetic separator.
Fluorite Mineral Processing Technology
The beneficiation technology of fluorite ore is mainly for hand selection and flotation. The hand selection is mainly used for fluorite and gangue demarcation, which is easy to be removed, and various grades of ore are easy to be identified by the naked eye. Fluorite and quartz, calcite, barite and sulfide mineral, the flotation process widely used at home and abroad, according to different mineral components, the quartz-fluorite, carbonate fluorite type and sulfide - fluorite flotation and have their own characteristics.
Lead-zinc Ore Dressing Process
According to the properties of different lead and zinc ores, there are different methods of beneficiation, such as preferential flotation, ISO floatability flotation, asynchronous flotation, mixed flotation, etc.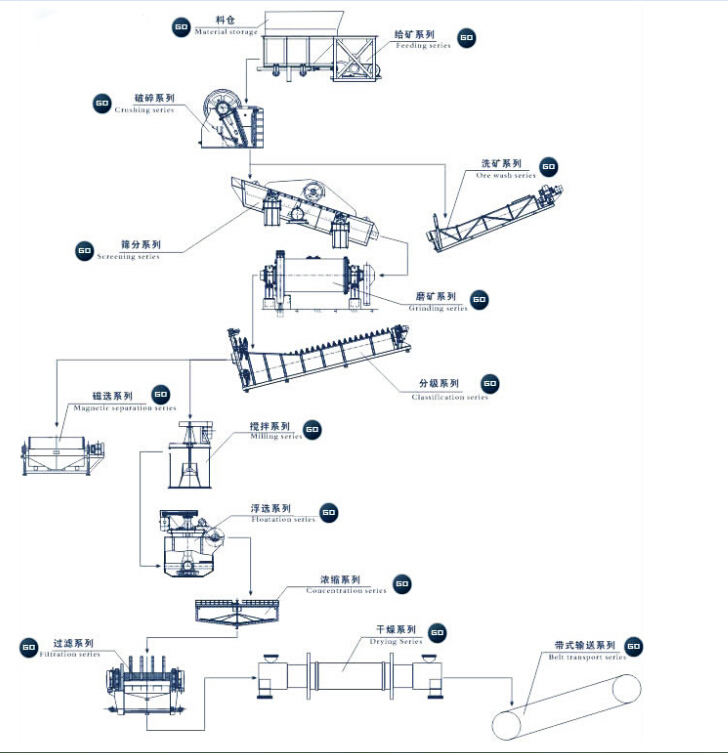 As a professional mining machinery producer, ZK Corp have rich project cases on different production process of ore dressing plant. The following are the parts of our success project cases.
1. 150t/h iron ore production line in Russia:
•BL1000 feeder
•2 sets of PE400×600 jaw crusher
•PY900 spring cone crusher
•GZG63-4 feeder
•2YK1237 circular vibrating screen
•ZKR1545 liner vibrating screen
•Ball mill
•3 sets of mixers (1.5m/ 2m/ 2.5m )
2. 6000 t/d Molybdenum ore beneficiation line:
•2 sets of 3200X5400 ball mills
•FG3000 classifier
•SF16m3Flotation machine
3. 2000t/d copper lead zinc beneficiation production line in Tibet
•4 sets of 2700*3600 ball mills
•4 sets of FG2400 spiral classifies
•SF-8 flotation machine
•PE900X1200 jaw crusher
•Mixer
•Thickener