200tpd Quick Lime Plant in Iran
Brief Introduction:The project is located in Adarkan, Iran. The total scale of the project is two 200TPD and two 300TPD quicklime production lines. The quicklime produced is mainly used in many steel mills around Adarkan. After many business negotiations and technical exchanges with the customer, the customer reached a preliminary cooperation intention with our company in December 2013, and officially signed the project, a 200TPD production line design and equipment manufacturing contract with February 2014.
Date of Signing: 2014-02-15
Processing Material: limestone
Processing Capacity: 200 tons per day
Equipment Configuration:vertical preheater, Φ2.8x43m rotary kiln, vertical cooler, bag dust collector, cyclone dust collector, jaw crusher, scale conveyor, belt conveyor, bucket elevator Machine, vibrating feeder, vibrating screen and other main equipment
Project Description
This project locates in Iran. The total plant is 2x200tpd and 2x300tpd Quick Lime production lines. The quick lime are mainly supplied for the surrounded steel plants. After many times commercial discussion and technical exchange, our Iranian client officially signed the contract with us for their first 200tpd production line. The contract includes design of the whole plant and fabrication of mechanical equipment.

This project adopts energy-saving and environmental lime Rotary Kiln which is equipped with advanced Vertical Preheater and Vertical Cooler. This new technology has optimized the traditional production technology. Due to obviously reduction of fuel consumption and emmission of waste gas, as well as application of bag filter and cyclone dust collector for purify the waste gas, the production cost and energy consumption have been effectively reduced.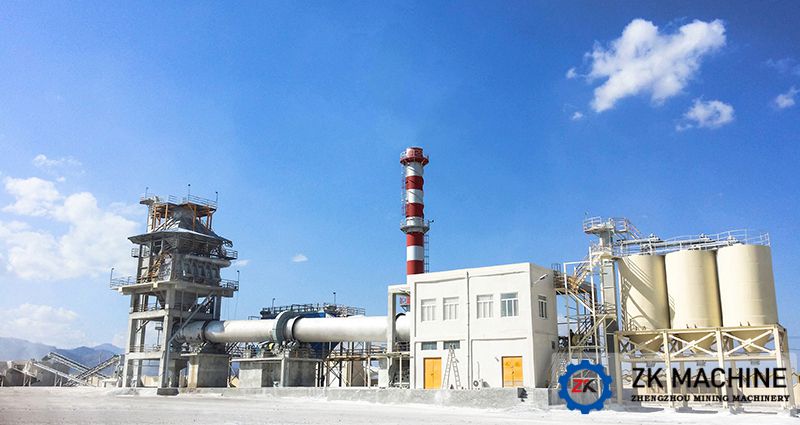 Project Advantages
1. Good quality quick lime with high capacity output.
2. Steably operation and full negative pressure production. Smooth air flow and high level safety.
3. Rotary kiln is simple structure which is easy for operation and maintenance.
4. Low thermal loss for unit product. The vertical preheater can sufficiently utilize the waste gas from rotary klin to preheating the limestone. This can effectively reduce the consumption of fuel.
5. Kiln outlet adopts integration design between veritcal cooler and kiln outlet hood. It has the advantages like less construction land area, good sealing peformance which can effectively avoid emmission of hot waste gas.
6. Good dust collecting system adopts bag filter and cyclone dust collector and the emmission density is less than 50mg/Nm3.
7. Adjusting, control and alarm of production system are centralized controlling at control room by PLC system.High labour efficiency with less workers.