Introduction
Limestone Crushing Plant (Limestone Crushing Line ) is an important link in burnt lime production line and cement production line. ZK Corp has its own proprietary products screening crusher is designed for crushing limestone and designed. Limestone is an important raw material of limestone gravel plants, aggregate plants, has a wide range of applications, our company provides the crusher wear parts can increase the life expectancy of 3.2 times, exports to the United Kingdom, the United States, Canada, Indonesia, the Philippines, India, Australia, 80 countries.
Processing Flow
In the process of production and processing of limestone, mainly will be used the following equipment: vibrating feeder, jaw crusher, impact crusher, vibrating screen, belt conveyor, and electric control system.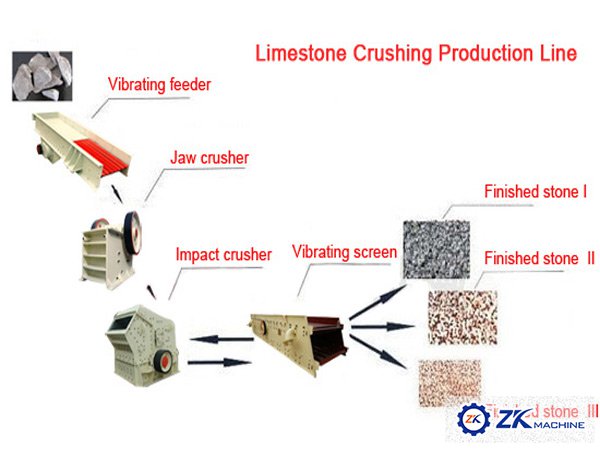 About Us
1. Our company manufactures various equipments for whole set of stone production line, and provide professional technical support for customers.
2. The designed ability of production is generally 30~400 tons / hour. We design different production lines by combining different models of equipments to satisfy different customers' practical requirements.
3.In order to meet different processing needs of customers, the output can be adjusted easily, meanwhile, it can be equipped with cone crusher, dedusting equipment etc.
Features
1. Good gravel particle shape, reasonable grade and less grinding power.
2. Equipment investment is 25-50% less than conventional production line, short investment recovery period and significant economic benefit.
3. Automation, high degree of information technology, high production efficiency and less employee;
Project Cases