Introduction
PF Series Impact Crusher is one kind of equipment to crushing the brittle material which compression strength no more than 320 Mpa, the advantage including high crushing ratio, uniform product grain and low over crushing, low energy consumption, high adjustment range of product grain size and optional crushing etc, which is mainly used in mine, metallurgy, cement, construction material, coal etc for secondary crushing and fine crushing the medium hardness material.
Application of Impact Crusher: Metallurgy, construction material, mine, beneficiation and large block material crushing.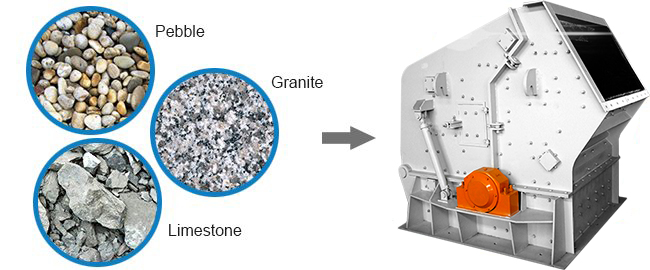 Applicable Materials: Dealing with the material with the side length 500mm, not more than 320Mpa anti-pressure strength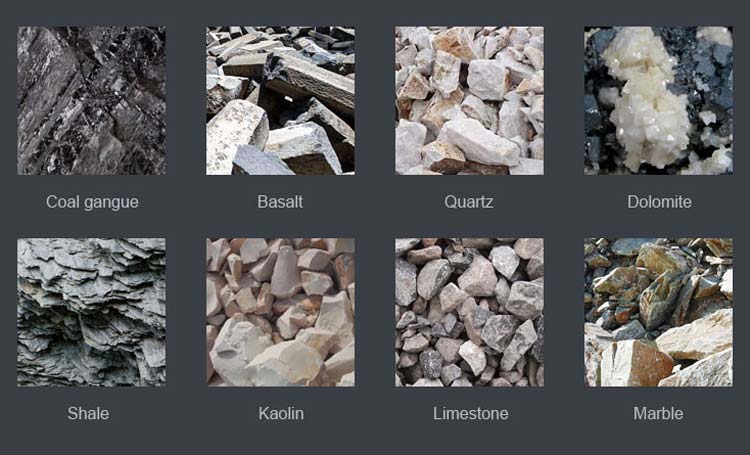 Features
1. Large feeding port and high crushing cavity, suitable to crushing the material with high hardness and big grain size, and less powder.
2. The gap between impact plate and hammer plate is adjustable, so the discharging grain size can be effective controlled and the grain shape is well.
3. The hammer, impact plate and lining plate are made of new type abrasion-proof material with long working life and impact protection, wear protection.
4. Because of the function of three-stage crushing and plastic, the crushing ratio is high, and the product shape is cube and can optional crushing.
5. The multi-function hydraulic station has many function of hydraulic discharge gap with high speed, impact plate stable vibration and the body open automatically..
Technical Parameter
| Model | Specification(mm) | Inlet size(mm) | Max feed size(mm) | Capacity(t/h) | Power(kW) | Boundary size(mm) | Weight(t) |
| --- | --- | --- | --- | --- | --- | --- | --- |
| PF-0807 | ø850×700 | 400×730 | 300 | 15-30 | 30-45 | 2210×1490×2670 | 8.1 |
| PF-1007 | ø1000×700 | 400×730 | 300 | 30-50 | 37-55 | 2400×1558×2660 | 9.5 |
| PF-1010 | ø1000×1050 | 400×1080 | 350 | 50-80 | 55-75 | 2400×2250×2620 | 12.2 |
| PF-1210 | ø1250×1050 | 400×1080 | 350 | 70-120 | 110-132 | 2690×2338×2890 | 14.9 |
| PF-1214 | ø1250×1400 | 400×1430 | 350 | 130-180 | 132-160 | 2690×2688×2890 | 18.6 |
| PF-1310 | ø1300×1050 | 490×1170 | 400 | 80-140 | 110-160 | 2780×2478×2855 | 16.2 |
| PF-1315 | ø1320×1500 | 860×1520 | 500 | 160-250 | 180-260 | 3096×3273×2667 | 19.3 |
| PF-1415 | ø1450×1500 | 1145×1520 | 950 | 220-450 | 220-315 | 3745×3022×3519 | 27 |
| PF-1520 | ø1520×2000 | 830×2050 | 700 | 300-550 | 315-440 | 3581×3560×3865 | 36.5 |
Project Cases