Introduction
TH Series Chain Bucket Elevator is a kind of continuous vertical lifting equipment with chain type bucket to process bulk material. It is mainly used for lifting bulk material and crushed material with the property of low hardness. It is widely used in power, chemistry, metallurgy, building material, mining and etc. The lifted material with the temperature under 250℃. It has the features of high capacity, reliable working, small area needed, high lifting height and easy maintenance. In the driving system, it has the high reliable non-return structure to prevent temporary power off or other fault causing shut off under the loading condition to make drive and lifting hopper return moving to cause fault.
Application of Chain Bucket Elevator:
Chain Bucket Elevator is used for lifting powder, granular materials and small block and grinding of small materials vertically, such as: coal, cement, stones, sand, clay, ore and so on. or other industries of dry mortar for construction, chemistry and foodstuff.
Structure of Chain Bucket Elevator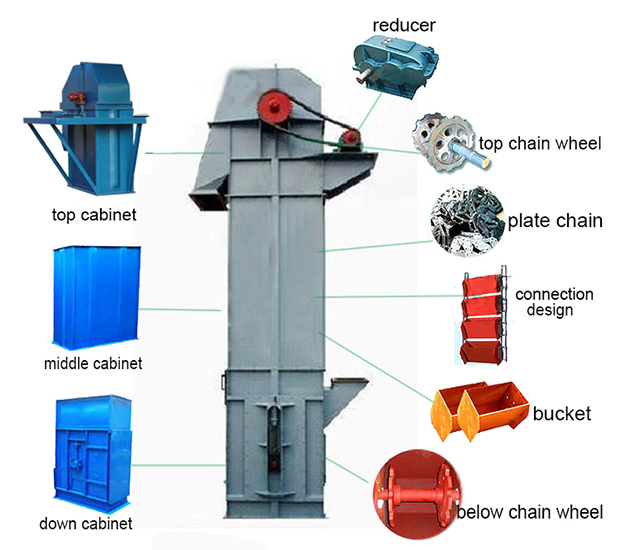 Features
1. Compact Machine Structure, small overall dimension, small space needed.
2. Adopt the taking out type material loading and mixing type material discharging. The hopper volume is big with high density layout. It has the feature of big lifting scope, high lifting height and high transportation capacity.
3. Each section and maintenance door have the sealing device to make sure no dust outlet to realize clean and friendly environment production.
4. Drive sprocket wheel is a overall structure, the surface has been specially strengthen processed. It has the features of easy operation, high strength and wearing resistance.
5. Adopt low alloy high strength round ring chain as driving part. Under the special technology process, it has the features of anti-pulling strength, good wearing resistance, long time using, good hopper connection, and easy to be maintenance.
Technical Parameter
Model
Type
Capacity (m³/h)
Hopper
Drive Revolving Speed
Max Size
Elevating Height
Volume
Bucket Pitch
Bucket Width
Speed
Deep Bucket
Shallow Bucket
Deep Bucket
Shallow Bucket
(mm)
(mm)
(m/s)
(r/min)
(mm)
(m)
TH160
Centrifugal Chain Type
25.00
15.00
1.90
1.20
500
160
1.20
69.71
20
3.88~38.38
TH250
Centrifugal Chain Type
48.00
31.00
4.60
3.00
500
250
1.20
44.11
30
4.11~38.11
TH315
Centrifugal Chain Type
60.00
35.00
6.00
3.75
512
315
1.40
42.50
35
4.55~38.05
TH400
Centrifugal Chain Type
94.00
60.00
9.50
5.90
512
400
1.40
37.60
40
4.50-38.00
Note: The volume of the hopper in the table is the volume when the hopper is filled with water, which is similar to the actual filling volume. Therefore, the filling factor is not considered in the calculation formula of the conveying volume. The filling factor should be determined according to the particle size of the material in the specific selection, so as to correct the conveying volume given in this table.
Project Cases