Introduction
PE/PEX Series Jaw crusher is a large kind of complex tilting crushing equipment, and it is mainly used for crushing medium hard ore and rock whose compression strength is no more than 250MPa, and with the quality of large crushing ratio, high yield, uniform particle size, reliable, easy to maintain and low operating cost, it is widely used in mining, metallurgy, construction, roads, railways, water conservancy, chemical industry and etc.
PE series jaw crusher is used for coarse crushing different kinds of ores and rocks, and PEX series jaw crusher is used for intermediate and fine crushing.
Application of Jaw Crusher:
Be applied in large block of material crushing in mining industry, metallurgical industry, construction industry, highway, railway, water, and chemical industry.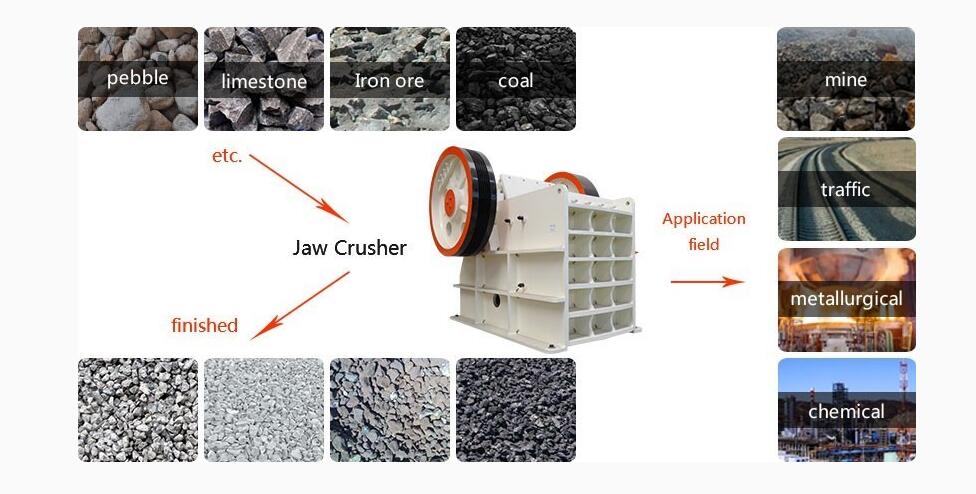 Features
1. Jaw plates is made of high strength steel, one time shape casting, and with characteristics of wear resistant, compression resistance, and long life;
2. High productivity, large crushing ratio, uniform product size, low power consumption
3. Gasketed discharging adjusting device, reliable and convenient, large adjustment range, equipment flexibility is increased.
4. Simple structure, reliable operation and low operating costs, safe lubrication system, and easy parts replacing
Technical Parameter
| Model | Inlet Size(mm) | Max feeding size(mm) | Adjusting Range of Discharging outlet(mm) | Capacity(m³/h) | Power(kW) | Weight(t) |
| --- | --- | --- | --- | --- | --- | --- |
| PE-150×250 | 150×250 | 125 | 10~40 | 1~3 | 7.5 | 13 |
| PE-250×400 | 250×400 | 210 | 20~60 | 3~13 | 15 | 2.8 |
| PE-400×600 | 400×600 | 340 | 40~100 | 10~35 | 30 | 6.5 |
| PE-500×750 | 500×750 | 425 | 50~100 | 25~60 | 55 | 10.6 |
| PE-600×900 | 600×900 | 500 | 65~180 | 30~85 | 55~75 | 15.5 |
| PE-750×1060 | 750×1060 | 630 | 80~180 | 72~150 | 90~110 | 28 |
| PE-800×1060 | 800×1060 | 680 | 100~200 | 85~143 | 90~110 | 30 |
| PE-870×1060 | 870×1060 | 750 | 170~270 | 145~235 | 90~110 | 30.5 |
| PE-900×1060 | 900×1060 | 780 | 200~290 | 170~250 | 90~110 | 31 |
| PE-900×1200 | 900×1200 | 780 | 95~255 | 100~240 | 110~132 | 49 |
| PE-1000×1200 | 1000×1200 | 850 | 195~280 | 190~275 | 110~132 | 51 |
| PE-1200×1500 | 1200×1500 | 1020 | 150~300 | 250~500 | 160 | 100.9 |
| PEX-150×500 | 150×500 | 120 | 10~40 | 3~15 | 11 | 2.5 |
| PEX-150×750 | 150×750 | 120 | 10~40 | 5~16 | 18.5 | 3.5 |
| PEX-250×750 | 250×750 | 210 | 15~50 | 8~35 | 30 | 5.8 |
| PEX-250×1000 | 250×1000 | 210 | 15~50 | 13~45 | 37 | 6.4 |
| PEX-250×1200 | 250×1200 | 210 | 15~50 | 13~50 | 37 | 7.7 |
| PEX-300×1300 | 300×1300 | 250 | 15~50 | 20~60 | 75 | 11 |
Project Cases