Introduction
PCH ring hammer crusher has the characteristics of stable operation, reliable operation, compact structure, low dust, low noise, light weight, convenient maintenance, low power consumption, and strong ability to discharge superhard materials. The gap between the grate bars can be adjusted according to user requirements, and the discharge particle size can be changed to meet the different needs of different users. The company's PCH ring hammer crusher has nine specifications and models according to its rotor specifications, which can meet the crushing production requirements of various brittle materials with a feed size of 200mm-400mm, a discharge less than or equal to 30mm, and an hourly output of 8-1000t.
PCH Ring-hammer crusher is suitable for crushing various brittle materials, such as coal, gangue, coke, slay, shale and loose lime stone etc. Whose compressive resistance no exceeds 10Mpa and the surface moisture content should not be greater than 8%.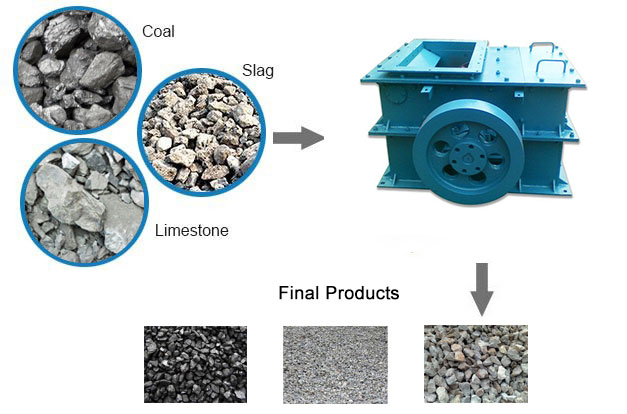 Features
1. Large feeding opening, deep crushing cavity, applicable for hard and large materials.
2. Hammer axle adjustable, hammer head has a long-service life.
3. Large torque,Grid size adjustable, particle size controllable and better particle shape.
4. Square shank bolts, resistant to impact and wear.
Technical Parameter
| Model | Rotor model(mm) | Max feed size(mm) | Discharge size (mm) | Motor model | Power(kW) | Capacity(t/h) | Weight(t) |
| --- | --- | --- | --- | --- | --- | --- | --- |
| PCH-0402 | Φ400x200 | 200 | ≤30 | Y132M2-6 | 5.5 | 8-12 | 1.3 |
| PCH-0404 | Φ400x400 | 200 | ≤30 | Y160L-6 | 11 | 16-25 | 1.6 |
| PCH-0604 | Φ600x400 | 200 | ≤30 | Y180L-6 | 15 | 22-33 | 2.2 |
| PCH-0606 | Φ600x600 | 200 | ≤30 | Y225M-6 | 30 | 30-60 | 2.8 |
| PCH-0808 | Φ800x800 | 200 | ≤30 | Y280M-8 | 45 | 75-105 | 5.3 |
| PCH-1010 | Φ1000x1000 | 300 | ≤30 | Y315M2-8 Y315M3-8 | 90 110 | 160-200 200-245 | 7.6 |
| PCH-1016 | Φ1000x1600 | 300 | ≤30 | Y312-8 Y400-8 | 155 220 | 300-350 400-500 | 12 |
| PCH-1216 | Φ1200x1600 | 400 | ≤30 | Y400-8 Y450-8 | 280 355 | 500-620 620-800 | 19 |
| PCH-1221 | Φ1200x2100 | 400 | ≤30 | Y450-8 | 450 | 800-1000 | 30 |
Project Cases