Introduction
ZM Series Single-Pulse Dust Collector is a small bag type dust collector that our company digests and absorbs similar products at home and abroad and has been optimized.
The utility model adopts the pulse cleaning method, which has the advantages of good cleaning effect, high purification efficiency, large processing air volume, long filter bag life, small maintenance workload and safe and reliable operation. It can be widely used in dust removal and purification and material recovery of non-fibrous industrial dust in metallurgy, construction, machinery, chemical industry, mining and other industries.
Our company can provide design, manufacture, and installation one-stop service for bag filter. Our bag filter models mainly include ZM Series Single Pulse Bag Filter, PPC Series Pulse Bag Filter, ZL Series Long Bag Pulse Dust Filter, UF Series Mechnical Vibration Bag Filter, GD Horizontal Electrostatic Dust Collector etc.
We supply the spart parts for bag filter, such as filter bag, bag cage, star-shaped discharger, pulse valve, pulse controller etc.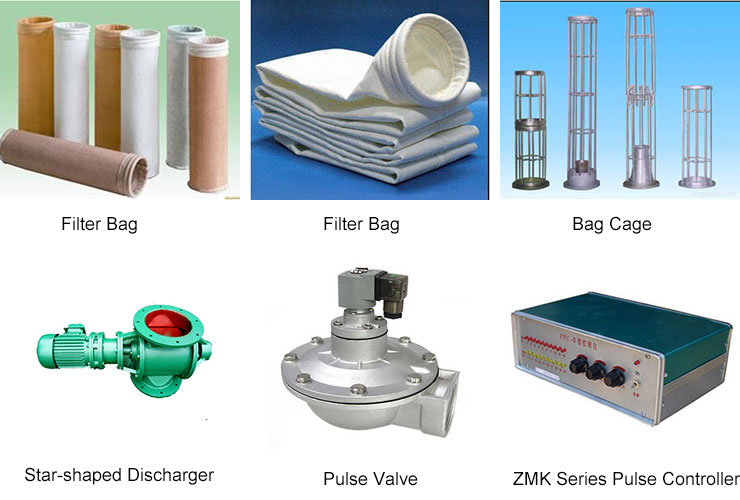 Features
1. Reliable design ensures the bag filter stable and long-term operation with the other main equipment and little maintenance.
2. Optimized duct design will be in favor of uniform air distribution.
3. Air leakage prevention design ensures the lowest air leak rate for the bag filter.
4. Steel sub-structure design, which would be easy for transport and installation of the equipment.
5. Low operating costs. Optimized design of process parameters is conducive to efficient and stable operation of the bag filter with low resistance, reducing energy consumption, as well as the loss of the bag.
Technical Parameter
Model
ZM-16
ZM-32
ZM-48
ZM-64
ZM-80
ZM-96
ZM-112
ZM-150
ZM-200
Air volume (m³/h)
700-1000
1500-2100
2100-3200
2900-4300
4000-6000
5200-7000
6000-9000
9000-16200
12000-21600
Filter area (㎡)
12
24
36
48
60
72
84
150
200
Air speed (m/min)
1.00-1.50
1.00-1.50
1.00-1.50
1.00-1.50
1.10-1.70
1.20-1.70
1.20-1.80
1.0-1.8
1.0-1.8
Bags qty ( pcs )
16
32
48
64
80
96
112
150
200
Inlet gas temperature ( ℃)
≤120
Equipment resistance (Pa)
≤1200
Inlet dust concentration (g/m³)
<200
Outlet emission concentration (mg/m&sup3;)
&le;30
Compressed air
Pressure(Pa)
0.5-0.7
Air consumption (m&sup3;/min)
0.06
0.1
0.14
0.2
0.24
0.29
0.34
0.5
0.65
Negative pressure (Pa)
5000
No. of pulse valves ( pc )
4
4
6
8
10
12
14
15
20
Fan Motor power (kW)
1.1
1.5
3
3
5.5
5.5
7.5
/
/
Weight (Kg)
A type ( With hopper)
1120
1480
1780
2030
2590
3080
3520
3750
4060
B type (Without hopper)
1000
1340
1610
1830
2360
2790
3160
3260
3360
Dimensions
A type ( With hopper)
1440x400 x4310
1440x760 x4310
1440x1120 x4310
1440x1460 x4380
1440x1820 x4580
1440x2160 x4730
1440x2520 x4960
3870x2840 x7650
4670x2840 x7650
B type (Without hopper)
1440x400 x2500
1440x760 x2500
1440x1120 x2500
1440x1460 x2500
1440x1820 x2500
1440x2160 x2500
1440x2520 x2500
3870x2840 x4230
4670x2840 x4230
Project Cases