Introduction
With high cleaning efficiency, PPC Series Pulse Jet Bag Filter incorporates the advantages of other bag filters as compartmental blow-back, pulse jet cleaning. It overcomes disadvantages of weak cleaning strength of blow-back as well as synchronous working of pulse jet cleaning and filtering, expaning the field of application, it is featured with strong cleaning strength, high effective, long life. It is suitable to the treatment of high concentration dust, simplifying the technical process of dust treatment and reducing investment of device.
Application:
This series of bag filter is widely used in cement, metallurgy, machinery, chemical and refractory industries, especially for dust collectiom system, such as crushing, packaging, warehouse, clinker cooler and various grinding mill in cement plant. In additon, it can be used in dust collection of coal mill. However, in the dust collection of ball mill, anti-explosion equipment should be added and related struture changed.
Working Principle:
From the intake, the air with dust enters into the ash silo through a slanting partition. With the speed slowing down, the big particle in the air falls into the silo due to its gravity, while the fines goes into the filtering chamber and attaches to the surface of filter bags. Then the purified air continues into the top cleaning room. Finally, the air is collected in the cleaning room and sucked out to the atmosphere by the main fan.
We supply the spart parts for bag filter, such as filter bag, bag cage, star-shaped discharger, pulse valve, pulse controller etc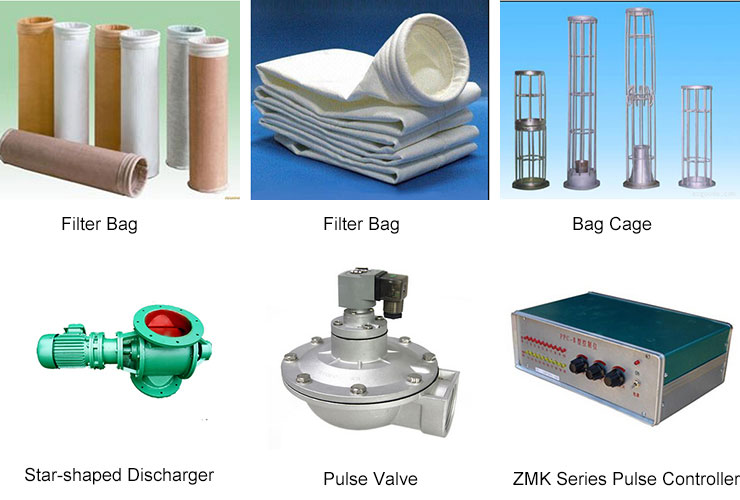 Features
1. New and advanced dust removing concept. No air pipe. Pulse valve is assembled at the side the chamber shell or top. No need to disassemble and assemble the air pipe when replacing the bags.
2. High performance pulse is applied to replace many smaller pulse to reduce the maintenance as much as possible.
3. Multi-chamber and off-line dust removing. Long life of filter bag.
4. Available for high density dust containing air collection, for example, O-Sepa separator, the dust content of which will reach 1000g/Nm3.
5. Air tank will reduce the pressure decrease caused by equipment.
Technical Parameter
Model
PPC32-3
PPC32-4
PPC32-5
PPC32-6
PPC64-4
PPC64-5
PPC64-6
PPC64-7
PPC64-8
Volume (m³/h)
6900
8900
11160
13390
17800
22300
26700
31200
35700
Air Speed (m/min)
1.2-2.0(Speed varies at different dust points)
Filtration area (㎡)
93
124
155
186
248
310
372
434
496
Net filtration area(㎡)
62
93
124
155
186
248
310
372
434
No. of dust collector rooms
3
4
5
6
4
5
6
7
8
No. of bags
96
128
160
192
256
320
384
448
512
Dust collector resistance (Pa)
1470-1770
Negative pressure(Pa)
5000
Dust content at inlet (g/m³)
<200
<1000
Dust emission (g/m³)
<0.1
Compressed air
Pressure(Pa)
(5-7)x105
Air consumption (m³/min)
0.27
0.37
0.46
0.55
1.2
1.5
1.8
2.1
2.4
Pulse valuce
Qty (pc)
3
4
5
6
4
5
6
7
8
Size (inch)
1-1/2"
2-1/2"
Elevation valve
Qty (pc)
3
4


6
4
5
6
7
8
(Air tank)
Size
Φ460, Air tank Φ63
Φ595,Air tank Φ100
Discharge device YJD-16
Outlet 300x300,Height 400 mm,Rev. Speed 41 r/min,Reducer Power 1.5 kW, Capacity 39.4 m3/h
Screw Conveyor
Model
N/A
Dia Φ300,Capcity 30m3/h ( Fill rate Φ=0.7)
Gearbox
N/A
Model XWD2.2-5-1/59. Power 2.2 kW
Filter bag spec and materials
Dia x Length Φ130x2450, Polyester needle felt gross weight 450g/㎡,Operating temperature 120℃
Insulation area (㎡)
26.5
34
41
48.5
70
94
118
124
166
Total equipment weight ( Approximate) (kg)
3110
4400
5700
7000
8940
10750
12570
14380
16200
Note
1: Net filtration area means the area of one chamber during dust removing.
2: The compressed air consumption is based on supply of compressed air pipe from a air compression station. The consumption should be considered to be 1.3 times more if the supply is provided by an independent air compressor.
Project Cases