Introduction
Vertical Cement Grinding Mill produced by China ZK Corp is is a new type of high efficiency, energy conservation and environmental protection of grinding equipment, widely used in the grinding of raw cement, slag, cement clinker, raw coal and other raw materials. It gathers grinding, drying and powder selecting as a whole, with high grinding efficiency and high drying capacity ( the maximum material moisture can be up to 20% ). The vertical mill adopts dynamic powder selecting device, which comes with high powder-selecting efficiency and convenient adjustment of fineness.
China ZK Corp has provided various kinds of large and medium size complete sets of cement production equipments for more than 300 cement customers in domestic market. And engineering for equipment and technology, manufacturing, installation and commissioning as well as the supply of the spare parts and the training service can be offered by China ZK for customers.
Vertical Cement mill working process:
The material will be grinded between rotor and ring as the rotor is rotating. The ground powder will be blown into the classifier; the fine powder will be collected by the collector while the coarse powder will be regrinded to the required size.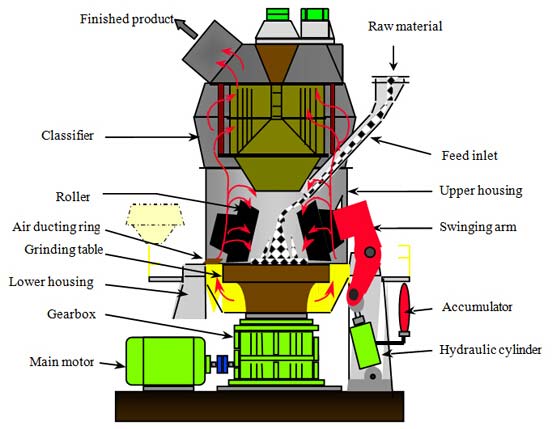 Features
1. High grinding efficiency and low power consumption.
2. Low metal consumption in unit product.
3. Bed grinding with low noise.
4. Negative pressure and low dust pollution.
5. Small floor space, compact layout, system equipment with light weight and low investment for civil construction.
Technical Parameter
ZKRM Specification and technical parameter of raw meal vertical mill


Model
Capacity (t/h)
Geometric diameter of grinding disc(mm)
Grinding disc track diameter(mm)
Raw material moisture(%)
Raw meal fineness(%)
Raw meal moisture(%)
Main motor power(kW)
ZKRM1300
20-25
1870
1300
<10%
R0.08≤12%
≤1%
200
ZKRM1500
26-34
2180
1500
<10%
R0.08≤12%
≤1%
280
ZKRM1700
40-50
2400
1700
<10%
R0.08<12%
≤1%
400
ZKRM1900
60-70
2680
1900
<10%
R0.08<12%
≤1%
500
ZKRM2200
85-110
2900
2200
<10%
R0.08<14%
≤1%
800
ZKRM2400
95-130
3140
2400
<10%
R0.08<14%
≤1%
900
ZKRM2800
120-160
3300
2800
<10%
R0.08<14%
≤1%
1250
ZKRM3400
190-240
4560
3400
<10%
R0.08<15%
≤1%
1800
Note: Grindability of raw materials(bond) Index ≤12kWh/t.
Project Cases