Introduction
Ceramic ball mill is also called Intermittent ball mill/Batch ball mill. Ceramic ball mill can be used to grind feldspar, quartz, clay, silica and other hard brittle materials. It is widely applied in industrial production of high fine grinding materials. Ceramic ball mill grinding has dry and wet ways, of which the dry grinding can produce ultra-fine powder with the fineness of 1000 mesh.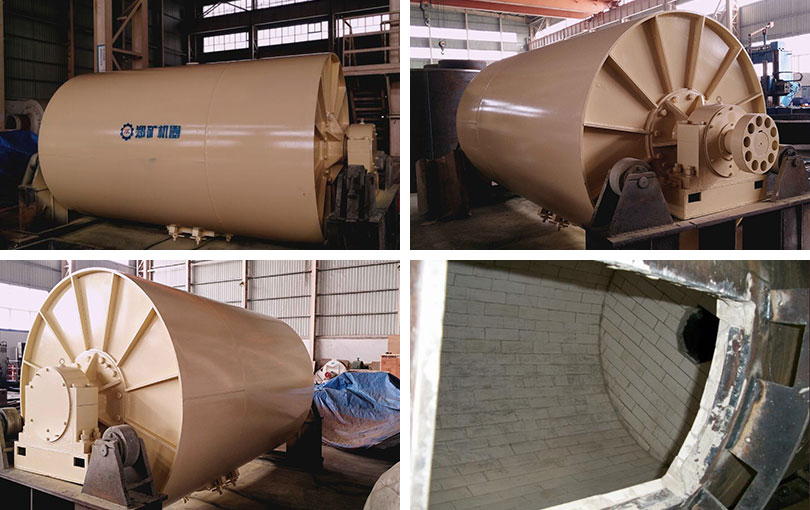 Working principle of Ceramic Ball Mill:
The material goes to the first hopper after the spiraling by the quill shaft from the feeding equipment. The hopper has ladder sheathing or corrugated sheathing with steel balls inside, which will fall under the effect of centrifugal force by barrel turning to ram hard and grind material.
After the kibbling in the first hopper, by monolayer partition panel, the material will enter the second hopper, which has plane scale board with steel ball inside to grind material. The powder material will be discharged from the grid plate to finish the grinding.
Features
1. The type of lining board can be changed: according to different materials, different lining boards can be used to meet different needs;
2. Low price: Compared with other ball mills, ceramic mills have low prices and quick cost recovery;
3. Small land area required: Compared with other mills, the length of the ceramic mill is short, so it occupies a small area;
4. Stable operation: The transmission of the main engine adopts a closed gear, so the stability of the transmission is enhanced.
Technical Parameter
Model
Loading Capacity (tons/time)
Rotating Speed (r/min)
Reference Power (kW)
600×700
0.05
50
2.2
800×600
0.075
42
3
900×1200
0.2
38.5
5.5
1300×1500
0.5
33
7.5
1500×1800
1.2
28.5
11
1800×2000
1.5
24
15
2600×2800
5
16.5
37
3000×3800
10
14.5
57.2
3200×4600
15
13.5
75
Ceramic, silica, rubber, metal (supporting power will vary depending on the material of the liner and the grinding material)
Project Cases