Introduction
Ceramic proppant, known as petroleum fracturing proppant, is one new type of material made from bauxite, manganese powder and additives by the process of crushing, drying, batching, pelletizing, calcining, cooling and sieving. Ceramsite proppant has the advantage of high strength, compression and abrasion resistance, good roundness, shock resistanceand good permeability resistance.
Proppant Rotary Kiln is the calcining system of ceramsite proppant plant. The fuels for calcination can be gas, oil or solid fuel. Its performance will directly affect the quality and cost. For the different characteristics and requirements of the traditional calcining ceramic materials, we developed the new series rotary kiln.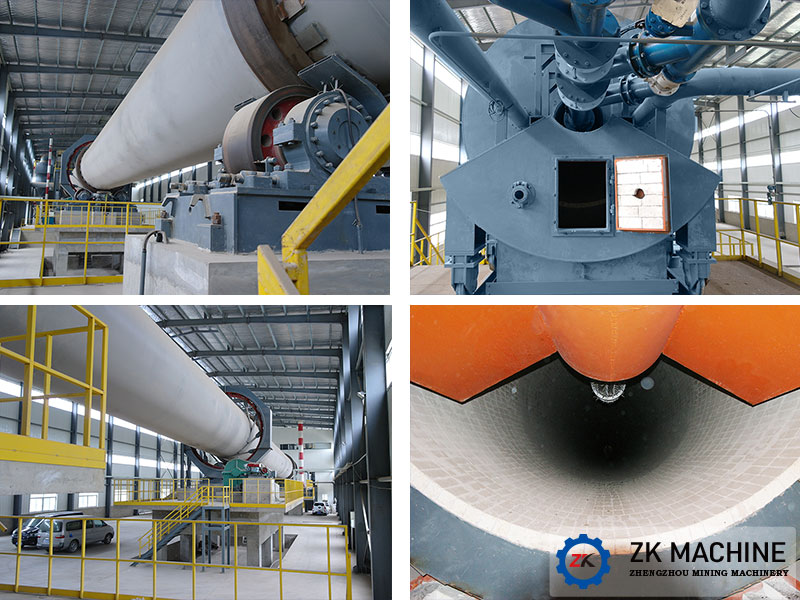 It has the characteristics of even calcining, large capacity, high operation, energy saving, easy operation and maintenance as well as long machine life, and can reduce the equipment operating costs significantly.
We supply complete set of machine for ceramsite proppant production line.
Features
1. Rotary kiln drive adopts frequency conversion speed regulation, which has high efficiency and low power consumption;
2. Low fuel consumption per unit product and large production capacity;
3. Negative pressure operation, low dust pollution;
4. Stable mechanical performance, stable transmission, precise speed regulation, and easy control of the calcination temperature.
Technical Parameter
| Model | Capacity(t/h) | Number of supporting | Reducer | Electric motor | Power (kW) |
| --- | --- | --- | --- | --- | --- |
| Ø2.2×45m | 3.5 | 3 Groups | ZS125-5 | YVF2-225M-4 | 45 |
| Ø2.5×50m | 5 | 3 Groups | ZS145-5 | YVF2-250M-4 | 55 |
| Ø2.8×50m | 8.5 | 3 Groups | ZS165-6 | YVF2-280S-4 | 75 |
| Ø3.0×55m | 11 | 3 Groups | ZS165-3 | YVF2-280M-4 | 90 |
| Ø3.2×60m | 15 | 3 Groups | ZL130-16 | YVF2-315L2-6 | 132 |
| Ø3.6×64m | 20 | 3 Groups | ZSY560-63 | YVF2-355M1-6 | 160 |
| Ø3.8×70m | 26 | 3 Groups | ZSY560-63 | YVF2-355M4-6 | 200 |
Project Cases